Dance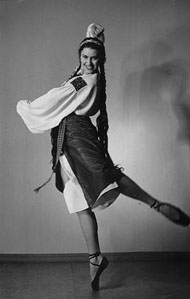 Renowned dancer, choreographer Roma Pryma-Bohachevsky dies

PARSIPPANY, N.J. - Roma Pryma-Bohachevsky, internationally renowned prima ballerina, choreographer and artistic director, died on Sunday, May 23, after a prolonged illness.
Ms. Pryma-Bohachevsky began her dance career in Ukraine and continued it in Europe and North America. During four decades of work as a choreographer and dance instructor, she popularized Ukainian folk dance. She directed Ukrainian folk dance ensembles in the tri-state, New York-New Jersey-Connecticut area, and her students over the past 40 years numbered in the thousands.
She was known especially for her choreography of regional dances from Ukraine, as well as for her stylized character dances and interpretive numbers that drew upon Ukrainian dance forms, classical ballet and modern dance.





Syzokryli Ukrainian Dance Ensemble — Artistic Director and Choreographer

The ensemble's artistic director is Roma Pryma-Bohachevsky, an internationally recognized prima ballerina and choreographer. Having started her career as a ballerina in Ukraine, she received a diploma from the Vienna Academy of Music and Performing Arts, and continued her studies in the United States. Ms. Bohachevsky's stage appearances have included solo performances and concert tours of Europe, North America and Central America. Eventually she turned to teaching and choreography, deeply influenced by the methods of Agrippina Vaganova and Martha Graham, with whom she studied.
Among Ms. Bohachevsky's many choreographic creations are "Peer Gynt," "Kvit Paporoti" (Blossoming Fern), and "Cinderella," which have been danced over the years by hundreds of her students.
But the most impressive choreographies are unquestionably those that she created specifically for the "Syzokryli" ensemble, comprised of her most talented students. Each choreography brings out the beauty of the Ukrainian theme developed in the dance, interwoven with elements of ballet, modern and stylized folk dance. Among her creations are " Battle for Freedom," a dramatic ballet commemorating the tragedy of Chernobyl, and "Icon," a historical recreation celebrating the millenium of Christianity in Ukraine.
http://www.ukrweekly.com/old/archive/2004/220403.shtml
http://www2.uwindsor.ca/~hlynka/ukfam.html
http://www.brama.com/syzokryli/rpb_bio.html
http://www.brama.com/syzokryli/pics/roma1z.jpg